Performing a domain name search is one of the most basic but important first steps of any online investigation. A domain search quickly tells you whether a domain is available for registration or provides registration details if the domain is taken.
One of the most popular free domain search tools is Whois.com. Whois.com offers a straightforward web-based domain search function that checks domain availability and returns basic WHOIS registration records.
In this guide, we will cover the essentials of using Whois.com for domain name searches, including:
How WHOIS domain searches work
Step-by-step instructions for searching on Whois.com
Interpreting Whois.com search results
Advanced search tips and tricks
Limitations of Whois.com and alternative WHOIS search options
Whether you are a domain investor, brand protection specialist, security researcher, or online detective, understanding how to effectively use Whois.com for domain searches is a key skill for investigating domains and websites.
Understanding WHOIS and Whois.com
To make the most of Whois.com domain searches, it helps to first understand what WHOIS is and how Whois.com works.
What is WHOIS?
WHOIS is a protocol standard used for querying databases that contain registered domain information. Performing a WHOIS lookup on a domain returns the registration record containing details such as:
Domain registrant contact info
Registrar used to register the domain
Registration and expiration dates
This registration data allows you to identify who owns a domain and key details about its registration status.
What is Whois.com?
Whois.com is a popular free online WHOIS lookup service operated by DomainTools. It provides a web interface to perform WHOIS searches on domains to:
Check domain name availability
Lookup domain registration records
Research website owners
Whois.com runs millions of WHOIS queries per month across 300+ domain extensions. It offers user-friendly access to basic WHOIS data needed for domains research and investigations.
How Domain Name Searches Work
When you run a domain search on Whois.com, it first checks if the domain is available and can be registered. If available, it will report the domain as "Not Registered".
If the domain is taken, Whois.com will query the applicable WHOIS database (e.g. Verisign for .com domains) and display the full WHOIS record data for that domain. This provides the registration details for taken/registered domains.
So Whois.com domain searches check availability and display WHOIS data to identify registered domain owners. This is essential intel for tracking down sites and assessing registration status.
How to Do a Domain Name Search on Whois.com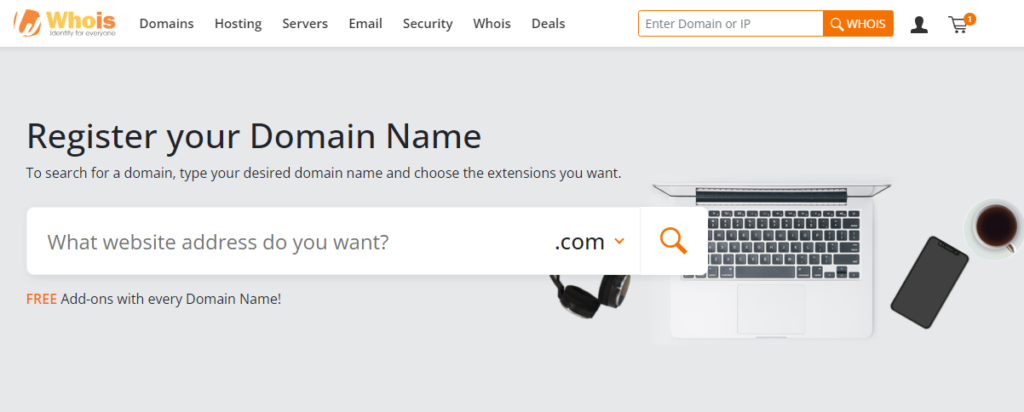 Conducting a domain name search on Whois.com is simple and straightforward. Just follow these steps:
Go to Whois.com
Enter the domain name you want to search for in the search bar. For example: google.com
Click the "Lookup" button or hit Enter to start the search.
Whois.com will check availability and display results. If available, you will see: google.com is available! If registered, the full WHOIS record will be displayed.
Scroll through and review the WHOIS record details for registered domains:

Domain registrant contact info
Admin and tech contacts
Domain creation and expiration dates
Name servers
Registrar used to register the domain

Optionally, click "View Screenshot" to see a snapshot of the website's homepage.
For other domains, use the back button to return and enter a new domain name to search.
You can also click "Try Similar" to automatically search for alternative domain spellings.
That's it! With this simple search process you can quickly look up domain availability and registration details on Whois.com.
For fastest searching, use their mobile app or browser extensions. But the basic website provides all you need to start researching domains.
Interpreting WHOIS Domain Name Search Results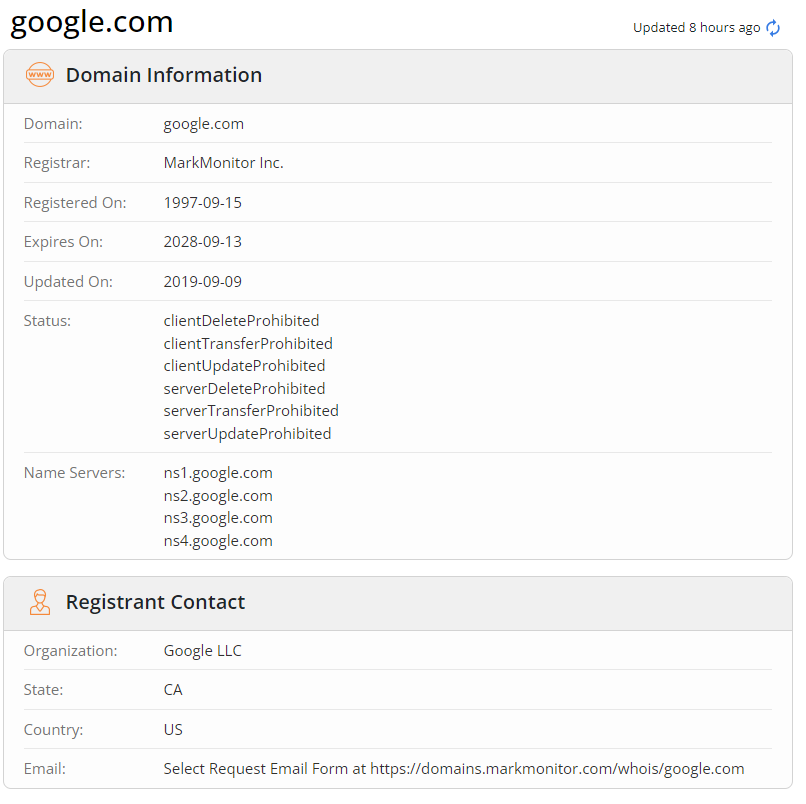 When you search for a domain name on Whois.com, the lookup results provide registration details and insights if the domain is taken. Here are some tips for interpreting the key elements of WHOIS domain search results.
Registrant Info
The registrant section provides the name and contact details for the person or organization that registered the domain. This identifies the owner and is the best starting point for tracking down the website owner.
You can often tell if the domain owner is using privacy protection based on generic registrant info like "Redacted for Privacy".
Creation and Expiry Dates
The creation (registered on) date shows when the domain was first registered. The domain expiry date tells you when it needs to be renewed.
Together these dates can reveal how long the domain has been registered and whether it is brand new or well-established.
Name Servers
The name servers listed host the DNS records that control the domain. Sometimes web hosts use their own name servers making it easy to identify the hosting provider.
Registrar
This shows which domain registrar manages the domain name registration. Large registrars include GoDaddy, Namecheap, and Tucows.
IP Address
The IP address points to the server hosting the domain website. Reverse IP lookups via other WHOIS tools can uncover other sites on the same server.
By closely inspecting these key details, WHOIS domain search results can provide valuable intel and starting points for further research.
Advanced Tips for Using Whois.com Effectively
Whois.com provides a user-friendly interface for basic domain availability checks and WHOIS lookups. Here are some tips for using Whois.com more effectively:
Lookup Multiple Domains
While Whois.com doesn't support batch lookups, you can manually search for multiple domains using these methods:
Use separate browser tabs to search for different domains side-by-side
Export WHOIS results to CSV to compile lookup data
Use the browser Back button to quickly lookup again
Validate International Domains
Whois.com automatically detects domain extensions like .com, .org, .net. For international domains, choose "International" first before entering the domain.
Monitor Domains
Sign up for a free account to enable WHOIS monitoring on domains. You will then receive email alerts for any changes detected in monitored domains. Useful for tracking registrant changes.
Leverage Screenshots
The "View Screenshot" option shows the current homepage which provides additional context about active website content.
Export and Save Results
Use the "Export to PDF" or "Export to CSV" options to download and preserve WHOIS records for future reference and analysis.
Reverse WHOIS Lookup
Whois.com does not offer reverse WHOIS search to find other domains registered under the same name. Use an alternative like Domaintools for reverse WHOIS lookup.
Using these tips will help you conduct more effective domain name searches with Whois.com beyond basic lookups.
WHOIS.COM Domain Search Limitations and Alternatives
While Whois.com provides free and easy domain searching, there are some limitations to consider:
No Bulk WHOIS Lookups
Whois.com restricts users to single WHOIS searches one domain at a time. It does not support importing lists of multiple domains for bulk WHOIS lookups. This makes it impractical for searching large domain lists.
Limited Historical Records
Whois.com only displays the current WHOIS record details. It does not provide historical copies of WHOIS data from past points in time.
No Reverse IP Lookup
Whois.com lacks reverse IP lookup functionality to identify other domains hosted on an IP address. This can help find related domains.
Restricted Advanced Features
Whois.com focuses on basic WHOIS over more advanced domain research features available elsewhere.
Due to the limitations above, power users may want to consider alternative WHOIS search tools and services.
Bulk WHOIS Options
For bulk domain name searches, look at WhoisXML API. Allow batch import of domain lists for WHOIS lookups.
Historical Records Access
Tools like Whois.is and DomainTools provide historical WHOIS database access to search old domain details.
Advanced Domain Research
For advanced domain research needs, Domaintools offers the most robust WHOIS and domain investigation features.
Evaluating WHOIS alternatives can provide greater flexibility and lookup power beyond the basics of Whois.com.
Key Takeaways
Whois.com offers free domain name searches to check availability and get WHOIS registration details.
Understanding WHOIS data like registrant info, dates, and name servers is key to interpreting domain search results.
Follow the steps to search for domains easily using the Whois.com lookup form.
Advanced users can lookup multiple domains, leverage screenshots, export results, and enable monitoring.
For bulk lookups, historical records, and advanced tools, alternative WHOIS providers are better options.
With its straightforward interface, Whois.com allows anyone to perform basic domain name searches and get WHOIS data quickly.
Read also: